The Legend of Zelda: The Wind Waker HD is now available at retail shops everywhere.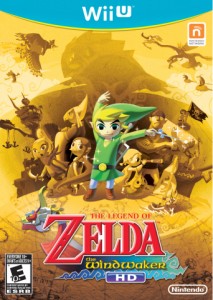 Available for a little while already on Nintendo's online storefront, the eShop, The Legend of Zelda: The Wind Waker HD is now up for sale in stores and on disc. The game, which is highly regarded as one of the best (if not the best) Zelda adventures of all time, comes in a gold-foil wrapped box and bears some pretty awesome Zelda artwork splashed across the front. Collectors should be plenty happy about this release too, since it's kind of hard to add a digital release to that library shelf.
"For more than 10 years, The Legend of Zelda: The Wind Waker has remained a standout entry in one of the most beloved series of all time with its distinctive graphics, fun adventures and charming story," said Scott Moffitt, Nintendo of America's executive vice president of Sales & Marketing. "This HD version and Wii U bundle are cornerstones of Nintendo's season of value and variety. These characters and experiences are exclusive to Nintendo systems, and a must-have for video game fans of all kind."
So now there are a trio (or… TriForce?) of ways to grab a copy of the reinvented Wind Waker- via digital download on the eShop, on-disc purchase, or with the special Limited Edition Wii U Deluxe Set that bears some neat Hyrulian graphics printed on it (it comes with a digital download code).
The Legend of Zelda: The Wind Waker HD in either physical or digital edition will cost you $49.99 USD and the special edition Wii U set (which also includes a download of Hyrule Historia by the way) will run you $299.99.
Continue Reading >>> Source link