Sorry Mario, but your Princess is in another castle. If you're looking for Bowser though, he's here in the World of Nintendo's first playset.
Have fun storming the castle!
Well isn't this a slice of awesome. Princess Peach's Castle, the seat of oft-kidnapped power in the Mushroom Kingdom, is getting cast in plastic. It's actually pretty impressive too, and includes some nifty accessories.
Measuring 12″ tall, 10.5″ wide x 5″ deep, the castle should be a nice centerpiece for any Nintendo collection of figures. Or, you know, you could play with it too. I guess.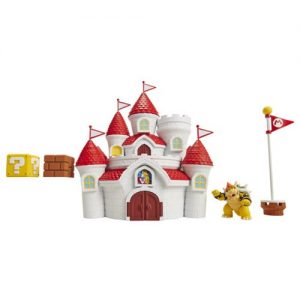 As you can see, some blocks are included along with a flagpole, though I'm going to go out on a limb and say they probably don't float. As an interesting twist too, you get a Bowser figure packed-in. Or maybe it's not all that interesting. Lord knows he's there enough.
No word on whether or not there's any interior space for play or display, but it seems as though there might be. It's 5″ deep after all. I'm guessing there's something going on.
From Jakks Pacific, the playset is scheduled to be available next month (August, 2017) and will run a shocking low $26.99 USD. Not bad at all.
Order one for yourself here via our friends at Entertainment Earth.
Continue Reading >>> Source link