Profiles in History will be putting over 500 cels from Marvel Comics' classic '90s era cartoons up for online auction soon. More mutants than you can shake a turtle at!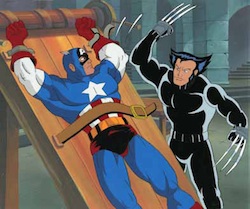 I'm a pretty big fan of Marvel's lineup of cartoons from the 1990's. X-Men, Spider-Man, and even Hulk and Ironman were really fun to great toons that caught the feel of the comics' they were based on really, really well.
Now Profiles in History (the US' leading dealer of guaranteed-authentic 'historical' documents, photos, autographs, etc) will be kicking off a very cool online auction, starting on December 1st, that's chock full of '90 flavored X-Men goodness.
Profiles in History, run by Joe Maddalena, is proud to announce the auction of over 500 Marvel animation cels at their online auction, December 1. The 500 animation cels presented in this auction are from the 1990's Marvel Animated Series broadcast on Fox. One of the most popular animated series of the 90's, the X-Men series, was the longest running Marvel Comics based TV show. Keeping in the tradition of the original comic book story lines, these cels were based on Jim Lee's character designs. In the past few years, similar cels have sold publicly at auction for up to $1,500 with the average sales being in the $500 to $600 range. All are expected to fetch between $100-$300, a rare opportunity for any collector to own a piece of Marvel history.
This is some really cool stuff. Even if you're not into the cartoons and you just like the characters, Jim Lee's designs would look awesome hanging on pretty much anybody's wall.
Here's a quick rundown of what you can expect to see available on December first:
A 1997 original production cel on key matching background of "Captain America" and "Wolverine" from the episode, Old Soldiers. Pictured above.

A 1993 original production cel and key matching production background featuring "Rogue", "Omega Red", "Jubilee" & "Gambit" from the episode Red Dawn.

A 1994 original production cel and key matching production panoramic background featuring "Gambit" from the episode The Dark Phoenix Saga (Part 4): The Fate of the Phoenix. Pictured right.

A 1992 and 1997 original production cels and original production background featuring "Rogue", "Wolverine", "Storm" & "Gambit".

A 1995 original production cel and production background featuring "Terrax", "Thor" & "Galactus" from the episode To Battle the Living Planet.

A 1992 production cel progression and background featuring "Rogue", "Jubilee" & "Wolverine" from the episode Savage Land, Savage Heart (Part 2). This set up is on an original panoramic background from the studio. Pictured below.

For more info and to get in on the auction yourself, head to the company's official site here.
Continue Reading >>> Source link