The second wave of Marvel Legends X-Men figures is finally available for preorder.
More X-Men on the way
Marvel Legends has pretty much gotten back to where it was in the the Toy Biz hey-day. Actually, at this point the line actually kind of has surpassed it. The characters the hit with each wave have been great, not to mention deep, and the sculpts and paid apps have been pretty darn good too.
And finally -at long last- the X-Men have returned in a big way. Last year's first wave was a smash hit for the brand, and now we've a second installment dedicated to the children of the atom. It's a pretty great lineup that's on offer too, with X-Men and classic X-Force members aplenty.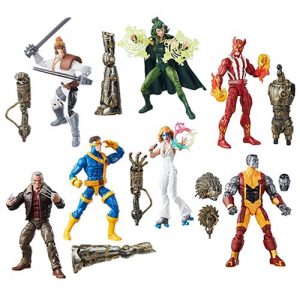 In all, X-Men Legends wave 2 boasts:
Shatterstar
Polaris
Sunspot
Old Man Logan
Jim Lee era Cyclops
70s era Dazzler
Marvel NOW Colossus
Warlock Build-a-Figure
That's a 8 pack of characters that runs the gauntlet of X-eras, including a few big time fan favorites. Each figure comes packing a part for Warlock, the New Mutants member from the 80s/early 90s, except for Old Man Logan. It's kind of weird, but he's actually sans pack-in. Personally, I think he could have used a cowboy hat.
Anyway, all of the above are available now for pre-order on internet retailers like our pals at Entertainment Earth. The set will run you $159.99 USD, and you can expect it to become available later this month. The way the first set sold, I imagine that pre-ordering might not be a bad idea if you want 'em asap. Click the pic above to order up.
Continue Reading >>> Source link