Aric and Ninjak take it to the Vine as The Kill List rolls on in X-O Manowar #44.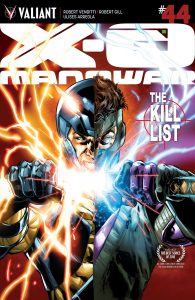 I had missed the first issue of The Kill List so I was a little lost as issue #44 kicked off. As with most of Valiant's stuff though, it was blissfully simple to get into this newest arc to land in the pages of X-O Manowar.
The premier superhero published by Valiant Comics, X-O is joined by the ninja assassin Ninjak in The Kill List, which sets the heroes against hidden members of the alien collective known as the Vine. And that works towards the main twist to the story thus far.
If you haven't been following the book lately, Aric has taken responsibility for the reminder of the Vine race and moved them to Earth. Under his protection, and that of the Visigoths (Aric's people), the man in the X-O armor's former enemies are now just refugees in need of safe harbor.
Here's the thing though, the faction of Vine that are already here on Earth (those sleepers I mentioned) aren't so willing to blend with humanity. They don't want peace, as a part of the Vine war-machine, they want nothing less than to wipe out humans and take the planet by force.
Fortunately, force really isn't something that they have in droves as of X-O Manowar #44, especially since Ninjak and Aric have been ripping them apart. Remember that 'twist' though? That comes into play with a new leader for the Vine, who's rising right here on Earth with Commander Trill.
There's a lot of action to this issue, and it's all tightly-paced too from the pen of Robert Venditti. We get an inside look at the Visigoth's tent city that they've set up for the Vine they're harboring, as well as the US military protective squad they've assigned to protecting these strange visitors (The Armorines). It's not just filer either, or something tacked-on to pull at the heartstrings, as this interlude actually does further the plot in a pretty big way.
Robert Gill provides the artwork for this issue, and does a terrific job of it. While Gill's work isn't over-the-top spectacular, it's more than just serviceable. His work is clean and tight, with a really nice realism to it, which I love. In particular, his depiction of the X-O Manowar armor has a heft and weight to it that I don't think I've seen from any other artist.
Final Thoughts
Consistently a great read, X-O Manowar's latest issue doesn't disappoint with solid artwork and an excellent script. I'm really digging the Kill List story arc too. It's loaded up with action and provides some terrific insight into the state of Valiant's version of Earth now that it's all 'Alien Nation'.
Continue Reading >>> Source link