Nintendo's newest console revision will be the only one capable of playing a port of one of the Wii's best RPG's.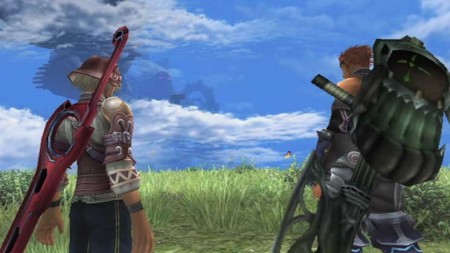 So the good news is that Xenoblade Chronicles, a fantastic RPG and really one of the best on the Wii, is coming to Nintendo's handheld. The iffy news is that it's only coming to the New 3DS, meaning that you won't be able to play it on any other 3DS console. The reason is pretty simple, the game needs the new CPU of the New 3DS to run, which means it's probably going to look pretty dang awesome.
I suppose the goal here too, is to give gamers a bigger reason to upgrade their consoles to the New 3DS from whatever they might have now, but it definitely does limit the audience for the game's sales (as MCV points out). And is a game like Xenoblade a system seller anyway? For a certain market sure, you bet it is, but I have to believe that there are more non-RPG fans out there (or one's who could go either way) playing on handhelds than those that are devotees of the genre. And it's kind of pointless to make a fairly high-profile title that can only be played on the new console if it's not going to draw a legion of gamers to that console.
What do you think out there? Will you be picking up a New 3DS when it debuts in Japan this Holiday, or the rest of the world in 2015? And is Xenoblade Chronicles one of the reasons you'll be doing so?
Source: MCV
Continue Reading >>> Source link