Publisher IDW has relaunched KISS  comics in a big way and now the company will be offering some very special collectible edition books to fans that are "hotter than hell".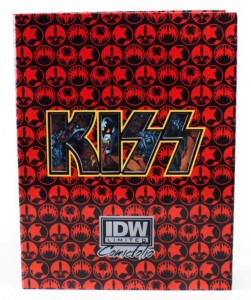 KISS has had a long time association with the worlds not just rock and roll, but also pop culture in general. There have been games, toys, collectibles and comics based on the legendary band over the years. IDW has taken that cross-genre popularity and run with it for their new Comicfolio line of KISS Solo comics.
"We wanted this to feel instantly cool and nostalgic." Says IDW Limited Director Jerry Bennington. "These remind me of the first time I saw a vinyl album, there's something so obviously COOL about them. This is the comic presentation you can get people into comics with, it's this unique thing that people see and instantly want to hold and own."
And even if you're not really a fan of the band per say, this stuff's just plain old cool. Each KISS 'Comicfolio' comes complete with an issue of the new comic based on one of the four members of the band. That's far from all though, because you'll also get a special version of the Angel Medina drawn cover and an exclusive lithograph packed in a laser-cut hardcover portfolio book that features the band's logo emblazoned across the front.
"Obviously, I'm a lifelong fan of KISS," said Chris Ryall, IDW's Chief Creative Officer/Editor-in-Chief, and the writer of the KISS Solo: The Demon and The Celestial issues. "And this is something I'm happy to have in my own personal KISS collection. This Comicfolio is a very cool collectible, and the perfect thing for long-time fans or for someone you're trying to get hooked on rock and roll—or comics—for the first time."
Honestly, this is kind of a big deal. New KISS merchandise doesn't come along all that often anymore and most of it ends up being pretty collectible. So even if you're not a fan of the group, these editions just might be something you'll want to take a long look at.
The first KISS member to receive this treatment will be the alter-ego of frontman Gene Simmons – The Demon. After his book releases, you can expect to see the Celestial, the Starchild and the Catman all join him on the shelf.
Individually, each tome can be ordered for $19.99 USD (with The Demon available for preorder now) right here. Also available now though, and if you're a completionist this is probably the volume you'll want, is a book that contains all four releases in one called The Beast. That deluxe book will run you $75.00 USD – which is a savings of about five bucks over buying all of them separately.
Continue Reading >>> Source link